It is well known that there are limited affordable options for people looking to buy a home in and around Metro Vancouver. However, for singles, couples and maybe small families, I believe that Abbotsford currently presents a good opportunity for homebuyers. In particular, condos in Abbotsford are at what might be considered an attractive price point.
But it's not just price that makes buying a condo in Abbotsford possibly a great option. If you don't know much about Abbotsford, it is a very nice community that I have previously written up a detailed profile on. Click here to learn more about this wonderful community.
As can be seen in the chart below, the prices for condos in the city have been fairly flat for almost the past two years now. This indicates a steady or stable segment of the housing market.
Average sale price of a resale Abbotsford condo as of August 2023 is $438,000.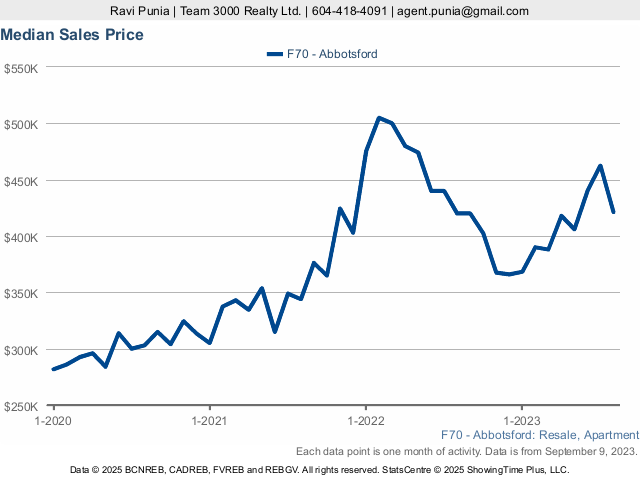 Median sale price of a resale Abbotsford condo as of August 2023 is $421,000.
Prices for condos in Abbotsford are currently sitting at a level that prices were in late 2021 into early 2022. Assuming an average price of $425,000 a 5% downpayment would equate to about $21,250 plus closing costs. So a downpayment of just over $20,000 is probably within range of many prospective home buyers. This could be especially attractive to first-time homebuyers.
If you are a prospective buyer looking to get onto the Metro Vancouver or Fraser Valley property ladder, I would suggest taking a close look at condos in Abbotsford, as possibly a good starting point. You can begin building equity at a relatively affordable price point, while getting to know and enjoy living in a charming community.
With many people struggling to get into the housing market in the core markets of Metro Vancouver, Abbotsford provides a compelling opportunity to purchase your own condo unit that you can begin to build equity with. Depending on how much money you have to put down, it might also make a great investment to rent out.